Private Training
StackMasters has partnered with OpenStack global leader Mirantis, to offer our clients a rigorous, proven curriculum that covers all their Cloud training needs.
Our courses are designed to address the OpenStack objectives of any cloud professional, from System Administrators to Technical Project Managers, and to empower students in planing, implementing and supporting OpenStack based infrastructure in the datacenter.
Training comes in the form of a 3-day bootcamp that covers the OpenStack Juno release and includes a well-balanced mixture of theory and hands-on labs for the students.
Participants who have completed the bootcamp, or have the necessary experience, will be able to apply for the Mirantis® OpenStack Administrator Associate Level (MCA100) and Professional Level (MCA200), a certification for IT professionals who have demonstrated the skills, knowledge, and abilities needed to create, configure, and manage OpenStack environments.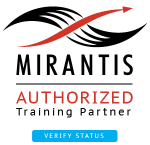 Mirantis OpenStack Training
was last modified:
December 8th, 2015
by